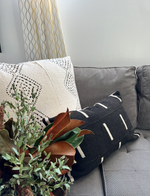 Eco-Design Ideas You Can Do Without Remodeling
In an ideal world, every home would be built from sustainable materials and equipped with eco-friendly features such as solar panels, double glazed windows and energy efficent appliances.
But even if you lack the ability or the budget to make big changes to your house or rental apartment, the good news is that it's possible to make any space a little greener by making thoughtful, more conscious choices about interior design and décor.
BUY LINEN SHEETS - LINEN PILLOW COVERS
Made from zero waste flax fiber, a recyclable raw material, 100 percent pure linen is naturally thermoregulating, to make it comfortable in all seasons. A material like linen gets softer over time, is surprisingly durable, and is naturally hypoallergenic. So not only does it look beautiful and effortless, but also it's going to last you a long time. While the home decor industry can often be seen as wasteful, in terms of how quickly we move through trends and replace items in our home, using materials like linen, hemp or Mud cloth is one way you can be more sustainable.
USE LOW VOC PAINTS
VOCs (volatile organic compounds) found in traditional paints contaminate the ocean and can have negative effects on indoor air quality that can impact human health.  I suggest using sustainable paint. Always check for VOC content on paint labels. The lower the number, the better. Ingredients like vinyl resins, synthetic dyes, petrochemicals derived from oil, acrylics, formaldehyde, and ammonia can all contribute to health issues.
DECORATE WITH PLANTS
Plants make a room feel as good as it looks. Be sure to do your research about the best indoor plants that affect air quality in your home and which can be sourced sustainably.
DRIED AND PRESERVED PLANTS
Dried flowers aren't just for grannies anymore. A new generation of eco-conscious designers and home decorators who love their florals but hate the environmental impact associated with fresh cut flowers have made dried flora relevant again, from Pampas grass to preserved moss wall art and dried bouquets frozen in time under a glass cloche.
MAXIMIZE NATURAL LIGHTING
Maximizing natural light will create a sense of well being in your space while cutting down on energy consumption. One simple way to increase the amount of natural light in your space is by decorating with mirrors, ideally positioned opposite windows or on an adjacent wall to amplify natural light.
Urban Re-Leaf Home strives to be an ecofriendly lifestyle brand.  We specialize in Hemp, Mud cloth and linen pillow covers.