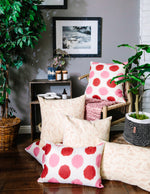 Urban Re-Leaf Home Celebrates Breast Cancer Awareness Month - Pre Order Today for October Delivery
The Lyra and the Poppy are our two pillows we are featuring for Breast Cancer Awareness month in October.  We will be donating 15% of our net proceeds to breast cancer charities.  We hope you love the pillows that we picked and know that you are supporting a great cause.
 The Lyra is a soft muted print that brings in a touch of elegance to any home.  The pink hues can soften a bold palette or it can be made as the main focal of your home. The delicate brush strokes of pink on a beige background makes this pillow a piece of artwork unto itself and the hemp fabric is built to last.
The Poppy is one of our featured Breast Cancer Awareness month Pillows.  We are donating 15% of sales in October to our breast cancer charties.
The Poppy is made to add a pop of color to your home.  Designed with fun and color in mind this pillow can brighten your day and put a smile on your face.  With a mix of pink and red it can complement many decor trends in your home and the hemp fabric is built to last.