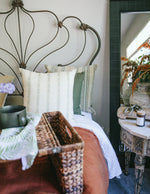 Throw Pillow Combos that work
Throw Pillow Combinations That Work 
Accessorizing with  throw pillows is one of the easiest ways to inject style into your living room, family room, or bedroom. And since there are so many affordable, beautiful pillows available, it's a shame to play it safe with just two or three solid-colored pillows—or worse, to limit yourself to the set that came with your couch.
The first thing to remember is that your pillows don't have to match. In fact, you can achieve a more professional, stylish look if they don't. If you're not comfortable with your ability to choose pillows, the following tips will help you mix and match fresh patterns and/or colors, allowing you to quickly refresh your room with a look that is coordinated but not matchy-matchy.
There are a lot of different ways to mix and match throw pillows, and it's true—sometimes it does take a practiced eye. It is possible, though, for room in which not a single single pillow matches another in color, pattern or style to still look incredibly polished and modern.
If you don't have the time or inclination to experiment or shop that much, the Rule of Three is the perfect formula to guide your choices and simplify the process.
Choose Three Colors
First, choose a "color story" to follow for your pillow selection. It's best to use three different colors pulled from other sources in the room, such as the wall color, the rug, your bedding or the curtains. If you choose a variety of pillows in different patterns, the look will still be cohesive if they at least share the same colors.
A few examples of color combinations that always look great together:
Black and white + deep red + pink
Deep red + orange + deep green
Magenta + violet + mustard yellow
Dark green + gold + magenta
Sage green + peacock blue + gold
Choose Three Patterns
You can also mix and match three different patterns, as long as each pattern incorporates at least one of the colors in the three-color story you have chosen. It's often simpler to choose your "lead" pattern first, which is generally the largest pattern and the one that contains all three colors in your color story. Then, the secondary patterns you select can contain just one or two of the colors. It's considerably more difficult to work backward, choosing a lead pattern by using pillows you already have.
Here are a few pattern mixing ideas to try:
One floral + one geometric + one solid color
One buffalo check + one toile + one ticking stripe
One chevron + one dotted + one knit texture
Choose Three Pattern Sizes
It's important to think of the scale of your patterns when following the Rule of Three because you don't want your patterns to compete with each other. Instead, choose patterns in three different scales, allowing one pattern to dominate. 
Your lead pattern should be the largest pattern of the bunch, followed by a medium-sized print, such as a stripe or small houndstooth. The third pattern, then, should be the most subtle, such as a solid color in an interesting texture, a dotted swiss, or one with a faint tone-on-tone pattern, such as a damask stripe.
Break the Rules if You Want
Now that you know the Rule of Three, we should also say that all rules are made to be broken—especially in design! If you start mixing and matching your selection of stunning throw pillows following the formula outlined here only to find that four colors work best for you, or that you like two large patterns instead of only one, that's okay. Ultimately, it's only important that you like what you see, so use this Rule of Three only as a jumping-off point for guidance. You'll see stylish results if you follow the formula, but you need not be afraid to experiment until you find the combination that suits you.
Additional Tips
Once you master the Rule of Threes, also consider these other principles used by room designers:
Odd numbers look modern: When arranging

 your throw pillows

, keep in mind that for a modern look, odd numbers work best—think again of three, or five. In most design aesthetics, odd numbers always look more artful, and remember that a smaller number of larger pillows looks fresher than a jumble of smaller ones.
Even numbers look traditional:

 

For a balanced look that features symmetry, especially on your bed or couch, an even number of similar pillows, such as two or four, looks clean and orderly.
Fill matters: When shopping for throw pillows, consider the fill and how it will affect the appearance. A feather-and-down fill, for example, has more "give" and a softer squish. Foam and other synthetic fills are stiffer and generally much more affordable. These pillows will hold their shape better but don't look as luxurious.
Mix textures, too: Pattern and color mixing is important, but texture should not be overlooked. Play with the juxtaposition of smooth and rough, soft and fuzzy. Think about faux fur, and velvet, linen, knit wools, and tasseled accents. If you keep your color and pattern theme in play, you can get creative with touch and feel.