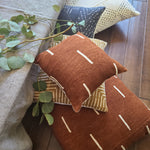 A Guide to Throw Pillows. What is the best Insert?
Wondering what size throw pillow you need and how to arrange them? I'm sharing my winning formula for arranging throw pillows on your sofa or sectional, plus tips for choosing the right size and style for a designer look.
Learn how to mix patterns and sizes of your throw pillows. Plus get tips for selecting the best inserts and the right sizes. If you're wondering what to buy and how to arrange your pillows, I've got you covered!
I love easy ideas to freshen up the look of the home without breaking the bank. In fact, I've dedicated several articles to this very topic!
Throw pillows are a hard-working staple of designers everywhere. A new color or pattern on a sofa instantly gives a new look!
So before you buy another pillow or get overwhelmed by the endless options available, use the Table of Contents below to find the right throw pillow sizes and arrangements for you!
4 STEPS TO THROW PILLOW SIZES & ARRANGEMENTS
While the fabric, color, and pattern are all important decisions, so is what insert you use and how you arrange them!
Adding pillows to your sofa adds color and texture, providing softness to your space. Plus, pillows help to personalize your space, taking a showroom sofa and really making it your own.
There are three main types of fill for throw pillows – polyester, down (including down/feather blends), and down alternative. If you really want a gorgeous, high-end look, splurge for the down blend.
Polyester
Polyester inserts, also called polyfil, are man-made material. They are less expensive than down and stay full and retain their shape. Unfortunately, this means that they aren't maleable either! They are great for deep chairs or sofas that need additional back support, but not so great for decorative throw pillows. You'll find polyester-filled pillows are HomeGoods and Target.
Does this mean I don't own any? Of course not! Polyester inserts are perfectly fine for any pillow whose job is just to sit there are look pretty. Personally, I like them better as lumbar and bolster inserts because with these shapes and sizes, it's not as apparent that they are polyester.
Down Blend
For a full, luxurious look, opt for down or down blend inserts. Down blend means that it's a mix of down and feathers. These pillows fluff nicely and can be shaped for a more natural look. They are, of course, more expensive.
Down Alternative
If you have allergies, opt for a down alternative insert. What's confusing is that down alternative is actually still polyester. The difference is that instead of a spun polyester, it's clusters of polyester meant to mimic down.
CHOOSE THE RIGHT SIZE
Yes, size matters! To get a nice, full look, the general rule-of-thumb is to choose an insert that is 2″ larger than your pillow cover. This really applies to pillows that are 18″ or larger. The smaller the pillows are, the less important it is to size up. The larger your pillow is, the more intentional you should be about sizing up.
For example, you can choose a 20″ insert for a pillow cover that is 18″. Or a 24″ insert for a 20″ pillow cover! For a 16″ pillow cover or even lumbers, you can choose a 16″ or 17″ insert.
A couple of caveats: If you choose an insert that is unusually full, you won't need to size up because your pillow cover won't be able to accommodate the fullness.