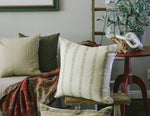 5 Sustainability Trends in Home Design for the Eco-Friendly
With the climate crisis and deforestation continuing to mount, and with so much unfair treatment of workers and artisans around the globe, the design world will undoubtedly continue to focus on sustainability this year. I have gathered together 5 sustainability trends that will help you become more eco-friendly when creating your home.
1. Classic Principles: Reduce, Reuse, Recycle
When we are mindful about the planet, we should really be cognizant about the furniture and decor pieces we choose. When we repurpose an old treasure, we unknowingly reduce waste, overproduction, and our footprint. Yes, a brand new piece can be exhilarating, but so can a vintage armoire with decades of rich history and spirit.  Weathered patinas, like the one below, bring about a touchable texture and such sacred sentimentality. We encourage you to browse online marketplaces to source some really great finds!
2. Eco-Friendly Fabrics

Naturally sourced fabrics are a significant component in green interior design. These fabrics include banana fiber, Afghan wool, hemp fabrics, seagrass, linen, burlap, and raw cotton. Not only do they come in a variety of textures, but they are also capable of being ethically sourced. Click here to check out some of Urban Re-Leaf Home ethically source pillow covers.
3. Eco-Friendly Home Design Materials 
Another great way to look out for the planet is implementing eco-friendly materials in not just furniture, but renovations and housing fixtures too!
Bamboo. Bamboo is a lot like wood but is much more sustainable.  Unlike wood, it requires far fewer pesticides and fertilizers to grow. Bamboo is typically used to make furniture, flooring, and fabrics in interior design. It is also a very fast-growing plant which means it can be used within four years of planting it vs. 50-60 years for most hardwoods.
Recycled Metal. Recycled metal is commonly used to build furniture and creates that cool industrial look in design. It can also be used for lighting fixtures, railings, and art sculptures. Steel is an incredibly sustainable material and comes in many forms. Like most metals, it is sturdy, non-toxic, and infinitely recyclable. 
Reclaimed wood. This option utilizes recycled materials, giving them new life to be used for things like mantels, flooring, accent walls, and cabinetry. It can really up the rustic and cozy level of your home.
Cork. Forget what you know about wine corks. Surprisingly, cork as an eco-friendly material in home design actually mimics hardwood pretty closely. It is only harvested from the bark of trees, which does not hurt the trees themselves and is able to be reused.
Bio-Glass. This type of glass is made completely of post-consumer recycled glass, making it an extraordinary green substitute. It creates stunning home features like countertops, bathroom sinks, walls, stained glass, and interior flooring.
4. Environmentally Friendly Lighting
Natural light is always best! Large, picturesque windows are most designers' love language after all. But switching your light bulbs to energy-saving LED bulbs is also earth-friendly and cost-efficient. This small change allows you to positively impact the environment while keeping the fixtures that you love.
An often overlooked cause of heat loss is light fixtures such as recessed ceiling fans and chandeliers. You always want to inspect these areas and add extra insulation to minimize heat loss in your home. A little energy saved goes a long way. 
5. Paint with Zero VOCs
As we all know, a fresh coat of paint can brighten any room! But it's time to take a deeper look at the paint you use, because it could come with a not-so bright side. To have zero VOCs means they're formulated without the toxic carbon-based solvents found in other paints. VOCs are emitted as gasses and can pollute the environment and the air inside your home, which poses health risks. When paints are GREENGUARD Gold certified, it means that they offer assurance that your paint choice meets the world's most stringent standards for low chemical emissions. Clare paints are validated to have products that contain zero VOCs, fewer pollutants and contribute to healthier indoor air quality. They're even conscious about their swatch packaging. Not to mention they have beautiful earth tones of seafood greens and sky blues.