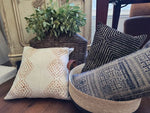 Bring Nature Into Your Home
At Urban Re-Leaf Home, we believe that nature knows best — and the same goes for design. From sprawling mountains to deep blue oceans, Mother Nature is brimming with inspiration.
Bringing natural elements into your home can not only be relaxing, but it is often good for the environment as well. With the rise of eco-conscious brands and more natural materials than ever before at our fingertips, bringing the outside world, inside, has never been easier.
Use Natural Textiles
Integrating natural textiles into your design plan, like hemp, linen, and cotton is a great way to bring the beauty of nature into your home. Linen, hemp, and cotton are all naturally soft fabrics and can have multiple uses within the home — think curtains, rugs, pillows, and blankets.
That being said, hemp is perhaps the most versatile and most eco-friendly. Hemp plants use very little water and space to grow and they also grow very quickly, making them a renewable textile source. Hemp is also best suited for the home because it is incredibly durable and it actually softens over time, instead of wearing down.
Try one of Urban Re-Leaf Home's gorgeous hemp pillow covers for yourself to bring a little piece of eco-friendly design into your home.
Use Natural Elements
If you want to take your space to the next level, try incorporating nature into your home using natural design elements, like wood, leather, and jute.
The great thing about using natural elements in your home is that these can be applied in large or small pieces. For example, large wood beams and natural wood flooring will instantly give your design a serious woodsy vibe, while a small jute rug will deliver a subtle natural aesthetic. Feel free to go as big or as small as you would like!
Add Plants
The easiest way to bring nature into your home is to literally bring a piece of nature into your home with indoor plants. Indoor plants not only look great, but they're great for you too. Studies have shown that having indoor plants improves your focus, enhances your mood, and freshens the air.
We know that not everyone has a green thumb, but there are many plants that are well suited for less than ideal conditions. Consider starting with low maintenance plants like a pothos, snake plant, or a ZZ plant before moving onto more challenging plants.
Conclusion
Bringing nature into your home can be both refreshing and incredibly chic. Whether you want to be more eco-conscious or you just want to spruce up your room with a few of Urban Re-Leaf Home's pillow covers, natural elements can bring a level of elegance to your home that you never thought possible.