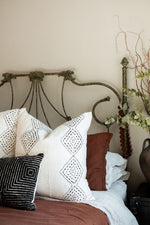 Many professional interior designers agree that nearly all of their clients have the same question about the humble throw pillow — what exactly is the secret to making throw pillows look good?
Selecting and styling decorative pillows may seem intimidating to anyone who isn't a designer, but there is actually a method to the madness of perfectly styled pillows. Follow Urban Re-Leaf Home's simple guidelines to achieve an effortlessly chic design.
Pick the Right Size
When selecting throw pillows, size is a big consideration. Pick a pillow too large and it will eat your sofa or chair. Pick a pillow too small and it will just look out of place.
Now, we all have different furniture, so how do you know what is a good size for a throw pillow for you? Start with what could be your largest pillow size and work your way down to the smallest. On average, we recommend starting with a basic 22-inch pillow and move from there. If you want to have multiple pillows on your couch, try stacking the pillows from largest to smallest for a balanced feel.
If you're not sure where to start, check out our Curated Set 3 of Urban Re-Leaf Home pillow covers. These sets are designer approved and with varying shapes and sizes, designing has never been easier.
Determine the Right Number of Pillows
When styling throw pillows, Urban Re-Leaf Home design experts recommend following the rule of odd numbers — this rule simply means to utilize odd numbers of pillows, like 3 or 5, especially if you are going for a more eclectic look.
When styling something like a sectional, we suggest you try to go for 5 or 7 pillows. Group the throw pillows with two or three at each end and a set in the middle. In other words, never just two throw pillows on a couch, no matter the size.
If you can't live without symmetry or have a larger couch or bench (longer than 6') that you're styling, then feel free to throw this decorating rule out of the window! Consider using an even number of pillows: six, with three throw pillows at each sofa end. Again, remember that just two pillows on a couch is a design no-no!
Mix Patterns and Textures
This is where you can have the most fun with your design. Feel free to experiment with bold patterns, vibrant colors, and interesting textiles.
Mixing patterns may seem complicated at first, so take a look online for inspiration to help you get started or check out Urban Re-Leaf Home's guide to pattern mixing. When you feel ready to start mixing up patterns and textures, we suggest starting with a solid color pillow first to ground your design.
For further inspiration, take at Urban Re-Leaf Home's Curated Set 1. This particular set features eye-catching prints and rich colors, which makes mixing and matching a breeze. In all of our curated sets, you will find a mixture of expert-approved prints, sizes, and a variety of fabrics, like hand-dyed mudcloth and hemp, that are all designed to take the guesswork out of decorating your home.
Final Thoughts
While styling throw pillows may seem like a small design element, styling your pillows the right way can make a big impact. These 3 simple rules from Urban Re-Leaf Home are here to help guide you in the right direction — but always remember to have fun and do what feels right to you!