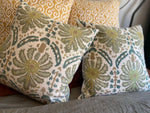 Everything You Need to Know About Throw Pillows
I'll admit, I'm a bit of a pillow hoarder myself so I'm in the camp of "You can never have too many throw pillows."  But, even if you're a minimalist and you're more of a "Less is more" type when it comes to throw pillows, chances are you'll like at least 1 throw pillow on your sofa.
Mixing and matching pillows can be overwhelming, especially because there are just SO many options out there.  But, have no fear! We're here to show you a few of our favorite combinations from urbanre-leafhome.  And, we'll give you some fool proof tips to mix and match pillows with the best of us.
Mix Your Pillow Sizes:
Another thing to consider as you're curating your pillow collection, is that if you have one statement pillow, use the other pillows to pull out key colors, almost like you would when designing a room around a rug.  Pull in solid pillows with great textures to balance out the statement of your primary pillow, that way not all of your pillows are competing for the spotlight.
Mixing Patterns:
When mixing patterns, make sure that the size of the patterns are not competing with each other.  Consider mixing one large pattern, one smaller pattern, and either a solid or a mid-range pattern.  If you look at your pillows from a distance and can't tell the patterns apart, they're likely too similar and you should swap one of them out for a larger (or smaller) pattern instead.
Tone on Tone:
If patterns aren't your thing and you're looking for more of a tone-on-tone design, be sure to vary your textures.  Three velvet pillows won't do you any good, but mix that velvet pillow with a linen pillow and a chunky wool pillow, and you're back on track!  
Don't get hung up on your pillow color palette all being a perfect match.  Yes, your pillows (along with your whole room) should share a similar color palette, but don't worry about all of your pillows sharing the exact same shade of blue. Variety is the spice of life, after all!
Are you ready to create your favorite pillow combination or check out our curated sets?  Shop here at urbanre-leafhome.com