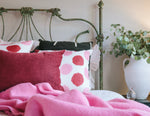 Tips for choosing and layering Pillows for Boho Styling
One of the easiest ways to dress up any bed is by adding a layer or two of cozy throw pillows. It makes a bed seductively inviting (for a midday nap, that is) and offers an inexpensive way to create an instant vibe when you need a fresh start. We tend to lean toward a boho-chic style, but also realize this makes pillow choices a bit overwhelming — the variety is endless! So here are a few tips for choosing and layering pillows for bohemian style bedrooms, without turning it full-blown Bedouin palace.
Laying a Foundation
Before choosing the throw pillows for your boho-style bedding, you'll need to arrange the basic foundations with shams and primary pillows. Use two Euro shams for double and queen beds, and a third extra for a King or California King bed. These two to three sham pillows stand against the headboard, along with the primary pillows. 
Add Textures for Interest
Textures add striking visual interest to any bed, whether it's faux furs, luxe velvets, or nubbed linens. While two or three textured pillows will do the trick, we also recommend swapping out pillows through the seasons. A thick Mongolian faux fur pillow is much more visually appealing as you crawl into bed on wintry nights. But come spring, we suggest going lighter color and or weight pillow like our Clayson Mud cloth pillow or Ava.
Add a Statement Pillow
Statement pillows can be any variety of geometric or graphic patterns from paisley, ikat, and Moroccan stars. A statement pillow can even simply be a bright pop of color.
But be mindful! A bohemian style pillow arrangement can lean on the maximalist side, and sometimes — if not careful — overdoing it to the point the bed completely disappears. If this is too fussy for you, we suggest starting with a subdued color and layering colorful pillows on top.  Like our Poppy pillow, it has pops of pink and red and really makes a states.  You can layer this with Afra our black and white pillow or a solid red.  This a great combination. This technique keeps a bed neater and appeals to those who prefer a more classic, minimal style.   
Urban Re-Leaf home offers Skylar a blue and white tie dye motif or Justina our multi color print 100% hemp pillow, which adds punch to oat-colored linen cases and crisp white shams.
Just remember the trick here is to find a throw pillow (or two) bold enough to be forefront and center on your bed. A pillow that catches the eye.
 Layering Pillows
Once you've chosen a pillow collection, begin with the foundation layer we mentioned earlier. While the style choice is up you, we recommend keeping them simple. Why? Because the fun is in the layers. Reverse their orders or make them asymmetrical. Next, with the foundation pillows in place, toss on your accent pillows. Mix and match their order so textures and colors are staggered, yet balanced.   
Top if off with the statement pillows. If you have one long lumbar, keep it tidy and stand it up proper. If you have two squarish pillows, keep it relaxed and easygoing by resting one casually upon the other.  
Searching for that perfect pillow to complete a bohemian style bedroom makeover? Check out our selection of pillows at Urban Re-Leaf Home.