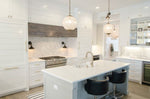 Latest Home Trends to lookout for in 2023
Trend Predictions
Interior design trends may not come and go as quickly as fashion trends, but there's always something new on the radar for those looking to spruce up their homes. While many people may be focusing on tightening their budgets in 2023, some of the year's biggest trends are compatible with DIY project, shopping sustainbly and shopping secondhand.
White Kitchens
While some of the top interior design trends in 2023 involve new ideas, some involve revisiting classic concepts. White kitchens have been popular at various points in recent history, but this year they're making a major comeback. A clean, monochromatic look works well in this space, but the trend can also be adapted to fit a more  vintage, cottagecore aesthetic by adding accent pieces and a pop of color.
Thrifting
With a recession hitting in many parts of the world, many home decorators may be working on tight budgets in 2023—but that doesn't mean they have to miss out on some of the year's biggest trends. Luckily, everything vintage is in, and the most desirable products can be found at the local secondhand store or antique market. Whether you're leaning into a retro '70s aesthetic, a cottagecore vibe, or a Victorian look, the thrift shop may have exactly what you want. Secondhand design is also an easy way to shop sustainably and reuse decor items that still have life.
Touches of Luxury
Despite the tough economic outlook for 2023, people still want to make their homes feel luxurious. This doesn't need to involve spending large amounts of money. It could simply mean adding some glam accents to a space. Gold candlesticks, mirrored accessories, and velvet textiles all contribute to a luxurious feel in any room. While many products, liketthis gold framed wall mirror, can be purchased new, similar luxe accents can also be thrifted.
Floral Prints
The past couple of years have seen many people embracing folksy or cozy styles like cottagecore and grandmillennial design, and that trend is sticking around for at least another year. Floral wallpaper, window treatments, and upholstery all lend a comfortable, lived-in vibe to any space and evoke visions of English country houses and enchanting rustic cabins. For those who aren't ready to commit in a major way, floral accents, brands like Laura Ashley has plenty to choose from.
Gallary Wall
While some may still prefer sparse spaces in 2023, maximalism is definitely in. There's no better addition to a maximalist room than a perfectly curated gallery wall to display art, photos, and personal mementos.
Generic art prints are falling out of style, and it's much more on-trend to fill a gallery wall with meaningful pieces that show off your taste and personality. Tie it all together by using frames in a similar shape or finish. 
Warm Colors
Whether looking at neutral colors or bright hues, warm tones will continue to reign in 2023. When it comes to wall colors, furniture, and accessories, shoppers can expect to see a warm, earthy aesthetic represented by many retailers. Reds, oranges, yellows, and pinks are sure to be popular choices for those who lean into colorful interiors, while those who prefer neutrals may opt for brown, beige, or terracotta over gray.
Sage Green
One notable exception to the warm color trend is the continued popularity of sage green. Sage is a cool and calming color that can be used in any room of the house. It's a great choice for bathrooms, bedrooms, and kitchens because of its ability to create an atmosphere of serenity and relaxation. The last few years have seen an uptick in furniture and cabinets painted in varying shades of green, and the trend doesn't seem to be abating anytime soon. This earthy color also looks great with wood tones and brass fixtures.
Curved Shapes
While modern design has been long defined by clean lines, expect to see more curves in 2023. In architecture, more curved walls and arched doorways are anticipated, while curved furniture is all about organic shapes with a focus on both comfort and ergonomics. Curves can make a space feel more inviting and welcoming.