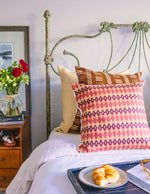 Three reasons to use Bold Colors
Three reasons to use Bold Colors:
 1.  Primary colors against a muted background
Toss a red pillow on the neutral-tone recliner to bring a touch of warmth to your home. Vibrant colors make a special piece stand out.
A royal blue throw can offset the earthy tones of a sofa or bedspread. If you use two primary colors, it can brighten the whole room as much as a new coat of  Bright design patterns – show
2.  A tropical getaway sounds relaxing, doesn't it? In the same way that vacation soothes and calms a frazzled soul, adding tropical prints with bold, brilliant colors and patterns invites those feelings into your home. Adding vibrant greenery—think palm leaves—emulates the lush jungle foliage.  Our Palm Green pillow will bring this vacay vibe into your home.
Want a contemporary vibe? A classic floral design in pink or burgundy on your pillows or rugs will do the trick. Stripes and geometric patterns are another great choice but choose purple, peacock or yellow to make them stand out.
3.  Go Bohemian- the new geometric pillow, palm green and dark burgundy the tye dye and the Wyatt- stipes with tan green brown and beige
The Boho style pairs a neutral base with bright accents. The best Boho palette consists of earthy browns and metallics for the background. Then it goes crazy with bright jewel tones.
Toss a sapphire throw pillow on the animal print couch or chair, as long as the underlying hue is the same, you're nailing the vibe.
When styling your space with bright colors, a little pop goes a long way to adding the artistic edge that demonstrates your personal flair. If you're leery of going all-out Bohemian, find one piece that nails the style you want for your room.
Don't turn away from that orange lamp shade or tropical throw pillow. They might be exactly the piece that gives your interior an artistic edge. Not to mention sending a spurt of joy through you every time you see that wildly original color.
Be bold. Be creative. Decorate with flair.