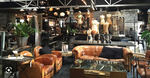 My Favorite Vintage stores in Los Angeles
I've currently been LOVING vintage furniture pieces and home decor! I've been using them as a source of inspiration for my Urban Re-Leaf Home projects and DIYs. Los Angeles has some amazing vintage furniture stores. While they tend to be on the pricier side, it's still fun to window shop and get ideas! I wanted to share some of my favorite spots, so next time you're visiting LA or need some inspiration- check out the below:
Big Daddy's Antiques:
This antique/vintage store has the most amazing finds.  The owner has cultivated a beautiful assortment of vintage, reproduction, custom furniture. If you are in the market for some unique finds or need an item reproduce then this is the store for you.
This vintage store is carefully curated and the store is decorated as if it were a home, which I love! Sometimes vintage home decor stores can be super cluttered. I love how Badlands Vintage is super inviting to shop and love how you can see the pieces as you would in a completed room. The product curation is very desert-meets-city, lots of neutrals, and warm wood tones. I recommend you follow them on IG because they get new pieces in DAILY!
If you're in the market for some mid-century furniture pieces + decor, you have to check out The Hunt Vintage! It's located in a warehouse in Downtown LA and is filled with so many treasures. The owner also makes some custom pieces that are available for purchase. Much like Badlands, the store is carefully curated and pieces are displayed much like they would in a home.
This store is INSANE, you can legit spend hours here!  It's a huge warehouse and is actually right around the corner from The Hunt Vintage. They have a showroom style room with pieces displayed and a warehouse back room with shelves and shelves of furniture. My mouth dropped when I saw how much furniture they had. They have tons of mid century and eclectic furniture and accessories. It's such a hidden gem and totally worth the drive to downtown LA.
Last but not least, another hidden gem is Vintage on Point! They offer modern, vintage home decor, handcrafted goods, and art. Everything is very carefully curated and the pricing is pretty affordable. You can shop pieces on their website or go to their store in person. They also restore pieces as well, if you have something or found something that needs a bit of TLC. They also have a store in San Francisco too!