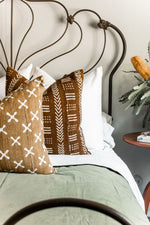 If you really want your home to stand out, mixing patterns is a great way to transform your space from bland to bold. At Urban Re-Leaf Home, we embrace darings designs and unique patterns to give your space the character that it craves.
While mixing patterns is can seem like a challenge, there are a few general guidelines that design experts at Urban Re-Leaf Home swear by.
Choosing Patterns
When choosing what patterns you want to mix, it's important to think about what overall feel you are trying to achieve. Do you want an elegant and modern living room? Maybe try patterns with classic silhouettes or clean lines, like you can find on The Stella. If you are you looking for a beachy vibe, think about shades of blue and calming prints, like on The Brooke or The Willow
Pattern Mixing Guidelines
Use at least three prints in a room and that are varied in size. For example, one large, one medium, and one small or one large and two different mediums.
Consider using colors that are the same saturation. For instance, try not to mix pastels with jewel tones. Different patterns can look great together if they live in the same color family.
You want your space to feel balanced so be sure to disperse your patterns evenly throughout the room.
Use patterns in small doses (like on curtains rugs or pillows) or try breaking up the space with solids. The eye needs a place to rest and too many patterns will make your design feel chaotic.
Not all patterns have to be bold and multi-colored. Tone-on-tone patterns can still add depth and visual interest while remaining elegant.
Just Remember...
The most important rule when mixing patterns is to do what feels right to you. Your space is completely your own and it should feel that way too. These guidelines are simply here to help to light the way to a bold and unique space.