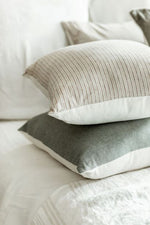 Design Guide: Seasonal Shades
Design Guide: Seasonal Shades
Changes in the weather outside can also lead you to want to switch up the decor inside your home. A few simple changes in your space can help bring the beauty of spring, summer, fall, and winter into your decor. No matter the season, read on to see our guide to seasonal shades.
Spring
Everything comes to life in spring so make your space lively to match! Think tranquil greens, soft yellows, and bold prints. The light olive tone of The Olivia and the subtle sage color in The Eden make them a perfect fit for a peaceful spring look.
Summer
When you think of summer, you think warm-weather, lush gardens, and lazy beach days. Invite summer into your home with ocean shades of blue and refreshing neutral tones. Many of our hemp pillows have just the summertime touch that you need. The Willow features a sky blue hand-painted design that will make any room feel like a beach cottage. Look to The Brooke for subdued ocean tones to bring a calming energy into your home.
Fall
As the weather starts to cool outside, the colors inside your home begin to heat up. Transition your space from summer to fall with warm rust colors and hints of mustard. If you're looking for a unique autumnal piece for your home, look no further than The Nyala or The Zatana.
Winter
Turn your space into a winter wonderland with stark whites, striking prints, and pops of color. Invite the grace of winter into your home with The Terra or The Nova — these 2 hand-painted black and white pillows balance out any space. Best of all, they come as a set in our Curated Set 5!