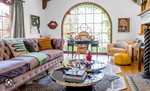 Intriguing. Deep. Multilayered. Surprising. Yes, the eclectic design style evokes a whole host of superlatives that belie its wily nature. Sure, it's a riotous juxtaposition of color and texture, old and new, and high and low—a study in contrasts that allows one's unique personality to shine and the freedom to think outside the box. But if you think this freewheeling style of decorating is an "anything goes" free-for-all, then think again. It's also one of the trickiest styles to get right.
"It's all about mixing, matching, and layering," , "There is a method to the madness".
Not only does the eclectic interior design style embody richness and abundance, but it also delivers a pleasing unpredictability that's easily translated to every other style—but its flexibility can leave room for error. "Start by following the rules—until you feel comfortable".
Create your own unique space: Apply the following eclectic home decor and design ideas.
A neutral wall color—shades of white and whisper-gray—immediately sets one up for success. Here, neutral white acts as a blank canvas against which one may freely add, subtract, and easily see results. Forehand proposes a "moody black, emerald green, and bright coral" palette, so "wood and brass tones pop." Stick to a core palette and introduce upholstery, textiles, and decor in similar, not exact, shades to promote cohesion.
Represent Different Eras
Take stock of beloved pieces and shop for those with similar lines and forms; you'll achieve continuity, regardless of style or era.  "Research three different styles you like, make one the dominant style, and pull from all three while looking for similarities. "Opposites also attract," Sometimes, it's all about trying new combinations and seeing how they work.
Match the Mood of the Room
The mood of the room also needs to match that of its furniture and decor. Match a formal dining area's conventionality with, say, a crystal chandelier—not a breezy rice-paper globe pendant for informal rooms like straight laced wingback chairs are eschewed in favor of fun, comfy seating that more appropriately sets the tone, like a relaxed vintage lounger and hanging bubble chair.
 Make a Statement
A big, bold statement-making piece is typically the very thing that "makes" an eclectic room. Whether it's a largescale artwork or a striking piece of furniture, no matter: It should have pride of place and be the only thing commanding the spotlight. Two showstoppers—unless framed within one vignette like the memorable modern traditional settee and living wall, or inside a really large space—tend to compete and can negate the room's overall narrative.
Curate a Curio
We should surround ourselves with things we love, no matter their style. But such lawlessness can backfire without thoughtful curation of the things you own and those you're bringing in especially decorative items. By all means, display key objects you love.   Sometimes, it's fun to create spaces that push limits, but do so sparingly and deliberately.  You can always add and subtract from what you exhibit, depending on the reason or the season.
Tinker with Texture
Repeat and alternate textures to create an eclectic home that's visually and tactilely stimulating. Pair smooth with rough, hard with soft, and coarse with fine and look for interesting ways to contrast patterns, weaves, and surfaces. For example, this ecelectic bedroom, with its rustic metalwork cabinet and soft, touchable bedding, is an ideal, captivating juxtaposition of texture and pattern.
Create Interesting Groupings
Interesting groupings are integral to every eclectic space, the interior design's rule of three. Which favors odd-numbered groupings (they're more appealing and memorable) over even-numbered arrays. Always group like items together by size, color, and/or purpose for maximum visual impact. Not only does this bookshelf vignetter share the same Southwestern motif, but each shelf also features an odd number of decorative objects.
Take Risks
Take risks you're unaccustomed to taking: Combine dissimilar colors, finishes, patterns, and materials that may seem "out there" at first. Who could have expected the disparate, patterns, artwork and eras represented in this living room would go so well? But trial-and-error pairings might just be the ticket to creating your own standout space. Compose an arrangement and step back: If it looks "off" then it probably is. Trust your instincts—and keep going until you love it.